THE CASUALTIES 2012_flyer
| | | |
| --- | --- | --- |
| Archiv: Flyer | GrafikerIn: --- | Erscheinungsdatum: |
THE CASUALTIES
Support:
INSANITY ALERT
THUNDERKIDS
---
Samstag 17.11.2012

21:00
VVK € 13.-
bei Ö-Ticket
AK € 15.-
hosted by poison for souls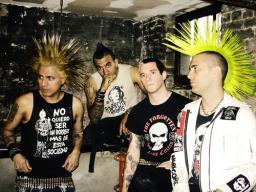 THE CASUALTIES
Support:
INSANITY ALERT
THUNDERKIDS
THE CASUALTIES (was übersetzt in etwa soviel heißt wie "Verluste" - an menschlichen Leben) gründen sich 1990 in New York. Wer damals die Gründungsmitglieder waren, ist nicht überliefert, fest steht, dass der gebürtige Ecuadorianer Jorge Herrera bei der Gründung dabei war und somit als einzige Konstante der Band gelten darf. Ein brachialer aber trotzdem Hit-verdächtiger Mix aus Crust Punk, Street Punk, einem Schuß Hardcore und jeder Menge bretterndem Motörhead Sound. Derbe Vocals treffen auf raue Maschinengewehr-Riffsalven und mehrstimmig geshoutete Refrains, der druckvolle, schnelle Beat erinnert zum Teil an frühe Poison Idea und auch auf kurze, melodische Sprengsel trifft man hier zuhauf. 
INSANITY ALERT is a crossover thrash metal band from Innsbruck, Austria. Influenced by the likes of S.O.D., Suicidal Tendencies, D.R.I., Nuclear Assault and newer bands like Municipal Waste, Toxic Holocaust and Bones Brigade, the band started rehearsing early 2011.
With a basic line-up consisting of guitar, bass, drums and vocals, the four thrashers from Tirol wasted no time. Fast and short songs were written, relying on killer riffs and aggressive vocals. Lyrics about zombies, insanity, weed/beer and thrashing harder!
---