YUSSUF JERUSALEM / LA SECT DU FUTUR
Samstag 22.09.2012

DOORS 9 PM
STARTS 10 PM
DAMAGE 6 MEASLY EUROS
ALL KIDS STRICTLY VERBOTEN!
hosted by choke media empire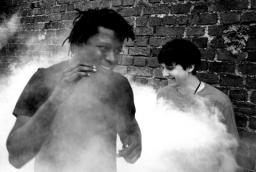 YUSSUF JERUSALEM (fra)
LA SECT DU FUTUR (fra)
They might play with different styles on their records, like black metal and medieval chants, even goth and country, but live its still modern age garage rock that reminds you of genre defining bands like BLACK LIPS, TY SEGALL or JACUZZI BOYS, but YUSSUF JERUSALEM has enough own ingredients to top the myriads of college rock acts that seem to cash in right now. This three piece from Paris, France has seen enough big and small stages on the old and new world to entertain the slightly drunk hipster chicks, garage rock journalists and punk rockers. They know the trick, trust me. They play big festivals like the one organized by SCION/AV, and also dumps like the Saturn Bar in NoLa.
But first off is LA SECT DU FUTUR, a rather new outfit, also from Paris, France, with members from Catholic Spray, Les Dolipranes and Zyklon Beach. They mix their garage pop with a lot of old school psychedelia and synth effects, sounding like a lo-fi garage record of DAFT PUNK with the attitude of LA PESTE. Understood? Do I hear YES SIR!? Take this trip Dr. Gonzo and we will take care of the rest.
After the show: ROCANROL BUBBLEGUM POWERPOP DANCE PARTY til you drop.
---