LES LUTINS PATATES DE L`ESPACE / GORDON'S TSUNAMI WEEK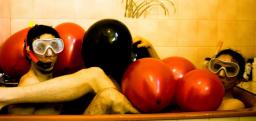 LES LUTINS PATATES DE L`ESPACE (fra)
GORDON'S TSUNAMI WEEK (ger)
Art Rock? Post Rock? Experimental?
Les Lutins Patates de L'Espace sind zwei französische Jungs, welche seit 2004 die Welt der experimtellen Musik um einiges bereichern.
Art Rock? Post Rock? Experimental? Jenseits jeder Etiketten lässt das Duo ihren musikalischen Wanderungen freien Lauf um einer neuerfundenen Klängenserie Raum zu geben. Das Ganze wird durch Videoprojektionen ergänzt.
Die erste Platte "Kill me when I am dead", auf Hell Vice I Vicious Records erschien am 11. Februar des Jahres, geht die Palette der fragmentalen Exzesse ganz durch; Startschuss für psychodelische Trips.
Mit über 40 Shows in Frankreich und außerhalb sind die beiden nun auch in Innsbruck zu Gast.
Gordon's Tsunami Week was founded in 2001 as an instrumental project. Gordon's Tsunami Week tries to unify soulful melodies and brute walls of sound. Influenced by bands like Mono, Explosions in the Sky, Envy, Mogwai, 65daysofstatic and Bohren & der Club of Gore, they 're trying to catch atmosphere and express it experimentally.
---