schischi intercontinental - The Global Warm Up - zu Gast: G.RIZO live
| | | | |
| --- | --- | --- | --- |
| Freitag 14.10.2011 | 22:00 | 6.- | hosted by schi schi & workstation |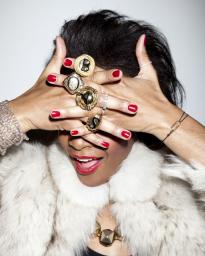 schischi intercontinental - The Global Warm Up

zu Gast: G.RIZO live
"von BRAVO zum besten Club zwischen Neusiedlersee und Bodensee gewählt
von SCHÖNER WOHNEN als ein Ort mit einzigartigemWohlfühlfaktor beschrieben
von ÖKM als DER Platz für sicheren Aufriss empfohlen"
G.rizo is a Nigerian-American singer, DJ and producer from New York City, based in Vienna, Austria. She published the underground art and music 'zine called Repellent (R.I.P.) for 3 years before taking off to Europe to make sing and make music.
As a singer she has recorded with quite a few people including Patrick Pulsinger, In Flagranti, Gerhard Potuznik, Maximilian Skiba, Snax, Donovan, Jimmy Edgar and several others.
Having completed the Master Certificate at Berklee Music online in 2009, Ihu now hosts and teaches electronic music production workshops in Vienna called "Electro Hammam" and is producing and releasing her own material on self-run label - Hezekina Pollutina. The first release, 12"single BOYS.
---