ROCK'N'ROLL ADVENTURE KIDS (oakland, ca, usa)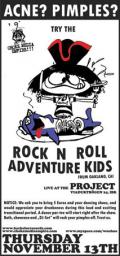 ROCK'N'ROLL ADVENTURE KIDS (oakland, ca, usa)
+ dunce par-tee wif a bunch of 'DJs'
Voted as San Francisco's BEST NEW PUNK BAND (SF Weekly), ROCK AND ROLL ADVENTURE KIDS are a two-piece outfit from Berkeley, Califuneral. As a guitar/drums tune slinging get-up, these two brothers stripped down the RnR to reveal a skeleton of raw and psychotic backwoods aria that SMASHES into all the right pieces. Their set at the Budget Rock Fest in Oakland last year is rumored to have impregnated a handful of lucky young LADIES, spawned a religion, and set FIRE to loins across the southwest. They played the DEBAUCH-A-RENO on an OCTO-CYCLE!!! I DONT KNOW WHAT THAT MEANS BUT YOU'VE GOT THE CHANCE TO ASK 'EM ON NOVEMBER 13th!!!
With howling harmonies, drum bang-ups that make you shingle n shake and chords that drags the SOUL right through the dumper, these KIDS are poised to rock your PANTIES off. song titles like FRIED CHICKEN, A CHICK NAMED JESUS or CHUCK TAYLOR SHAKEDOWN you just KNOW that theres something in the water of Berkeley that makes brains go bzzzzzzzzzzzz...
Just look at that video below. Come out come out wherever you are, make some noise, I know its thursday nite but let's party like its satta-day!!!!!
---