Musikunterricht mit los gurkos Lesson 12: Sex Pistols in Japan
| | | | |
| --- | --- | --- | --- |
| Montag 11.02.2008 | 21:00 | frei! | hosted by los gurkos prod. |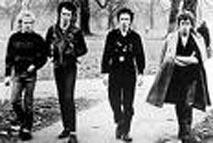 Musikunterricht mit los gurkos Lesson 12: Sex Pistols in Japan
(Sex Pistols, Tokio, 1996, 70 min)
Im verrückten Februar werden wir die filthy lucre tour der Sex Pistols zeigen.
Ein Konzert der Reunion - Tour 1996 "live" aus Tokio. Noch immer hoffen die Jungs, dass Gott die Queen beschützen sollte und plädieren für Anarchie in the UK. Ein Filmkonzi, dass sich kein Punki entgehen lassen sollte.
Im Vorprogramm zeigen wir einen Kurzfilm aus Russland: der Tiroler Künstler Markus Hofer, hat uns eine DVD mit einem Film von der Kunstgruppe NOM ausgeliehen: NOM is involved in creative videoactivity, producing numerous videoclips and feature films. Its video "Ukrblues" won the 1st prize as the best low-budget video in MIDEM-96, Cannes, France.
---