King Champion Sounds | The Spacelords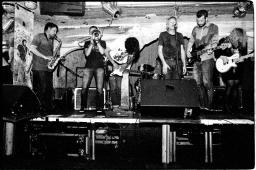 King Champion Sounds | The Spacelords
"You know your government has failed when your grandma starts to riot"
King Champion Sounds sind eine wahnsinnig gute Liveband die gerade ihr zweites Album veröffentlicht hat. Einige ihrer Mitglieder kennt man vielleicht. G.W Sok war früher Teil der Band The Ex, und Ajay Saggar spielte mit Projekten wie Dandelion Adventure, Donkey, oder The Bent Moustache.
Referenzen: The Fall, Can, Sun Ra, Captain Beefheart, Public Image Ltd, King Tubby …
Und wenn das noch nicht genügt? Auch Thurston Moore findet sie großartig!
Support kommt von: The Spacelords
Die Spacelords nehmen Kurs auf die Erde.
Von ihrer Reise durch Raum und Zeit bringen sie
psychedelische Sounds, treibende Beats
und schwere Riffs mit.
Spacerock mit Kraut-, Desert-, und Stoner-rock-flair
---