JUNGLE ROT (USA) / WARMASTER (NL) / PATH (USA)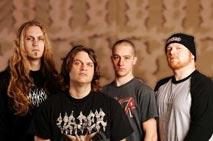 JUNGLE ROT (USA) / WARMASTER (NL) / PATH (USA)
"Combining the attitude of hardcore music with the intensity and energy of death metal, JUNGLE ROT take the meaning of ferocity to new heights" - MetalCoven.com
Dieses Zitat aus einem der populärsten US-Webzines, sagt eingentlich alles aus, was man über "Jungle Rot" wissen muss. Wissen sollte man, dass es sich um eine Band handelt, die sämtliche Trends des Genre umschifft hat, Old School Groove-Death-Metal, wie ihn heutzutage wenige Bands produzieren.
Mit auf der Tour sind Warmaster aus Holland und Path, auch aus den Vereinigten Staaten.
Ein Death Metal Dienstag par excellance...
---