jacco gardner
Mittwoch 20.11.2013

21:00
AK €10,- |
VVK €8,- (Downtown Sound)
hosted by Workstation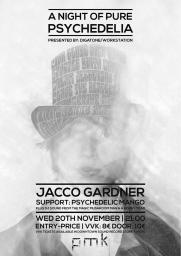 A Night of Pure Psychedelia
JACCO GARDNER (nl)
Support: PSYCHEDELIC MANGO (at)
JACCO GARDNER is a young Dutch multi-talented musician causing a stir the world over for his stunning baroque style psychedelic sound that pays homage to the late 60's legends such as Syd Barrett and Pink Floyd, Nick Drake, Gandalf and Roky Erikson. Together with full band the stage show is a thing of intense beauty. In September he was the main highlight of annual Liverpool Psychedelic Festival.
Support is from the young Austrian band PSYCHEDELIC MANGO who in a very short time have become noted for their incredible musicianship and songs that – whilst hinting at the late 60's – are also indebted to the 70's sound of Jonathan Richman & The Modern Lovers, Television or Talking Heads.
The DJ sound on the night to complete the 'total' psychedelic experience will be provided by THE MAGIC MUSHROOM MAN & A HORNY TOAD. Plus every guest will receive a pair of Acid Psyche light diffracting glasses to give the "full" psychedelic effect!
---