DIY ist fertig, oder.... Live: ICH BIN DIE VORBAND
| | | | |
| --- | --- | --- | --- |
| Freitag 24.06.2011 | Show Time. 21:30 | frei | hosted by |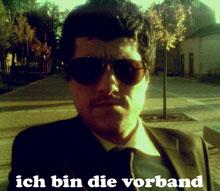 DIY ist fertig, oder....

Live: ICH BIN DIE VORBAND
(fruity loops, drums, stylophone / Ibk)

Film: "1000 Softcore Tourist People Club" von GANGPOL UND MIT
(sonic & visual in love / Bordeaux / 2011)
Ich bin die Vorband, a.k.a. Oscar Germes, entdeckte mit Hilfe von Fruity Loops die Melancholie in sich. Nach vielen musikalischen Phasen, die Blues, Hard Core, mexikanische Herzschmerzlieder, Drum 'n' Bass und Post-Rock umfassten, entschied sich Ich bin die Vorband für
Melodien, die der alltäglichen Traurigkeit eines Mexikaners in den Alpen Ausdruck verleihen.
Film: "1000 Softcore Tourist People Club" von GANGPOL UND MIT (sonic & visual in love / Bordeaux / 2011) As a music and graphic duet, Gangpol und Mit works on a peculiar world of digital pop inhabited by colourful and geometrical characters – a bestiary that evolves in lysergic musicals and takes part in apocalyptic cartoons. (Ipecac Recordings)
Afterparty: DIY-Mischpult: Wir hosten Innsbrucker DJanes & DJs.
Here is the plan: take a song, cut it, play...for 30 seconds & dance.
Painting surprise: street artist in p.m.k....
---