CUT CITY (goldenstandardlabs)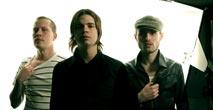 CUT CITY (goldenstandardlabs)
ABGESAGT !! CANCELLED !!
Wegen der Erkrankung eines Musikers muss das Konzert leider abgesagt werden !
Cut City Statement:
It's with the most regret we have to inform all of you promoters, show-goers and other fans that we have to cancel this upcoming tour. David was just hospitalized due to a serious lung infection and he's been pumped full with antibiotics and other medications. He's feeling a bit better but on doctor's orders he's not allowed to do any physical activities whatsoever for the next month and a half. This leaves us with no drummer for the tour.
We've been looking forward to this tour for a long while not being able to tour last fall and to have to cancel this tour, well, it just breaks our hearts! We will look into the possibilities of re-scheduling this tour for this coming fall (hopefully as early as possible!). We hope that you understand that this situation is out of our hands and that there's nothing we can do to make this tour happen.
---